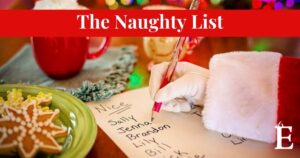 Don't Land On Your Dentist's Naughty List (Six Poor Dental Habits to Avoid)
It's no surprise that practicing good dental habits tops Dr. E's wish list.  After all, taking proper care of your teeth helps ensure that your smile stays healthy and bright all year long. However, tis the season where the team at Dr. E Cosmetic & Family Dentistry likes to remind patients to do their part to stay OFF the naughty list by avoiding these poor dental habits:
Nail Biting.  This may be a lifelong habit for some patients, but it's never too late to stop! Prolonged nail biting can result in chipped teeth and even jaw dysfunction. It can also increase the chances of your mouth making contact with harmful bacteria through your fingertips. Dr. E recommends finding a safer, healthier way to calm your nerves and keep your fingers busy – such as clicking a pen or grabbing a stress ball. 
2. Teeth Grinding. Often a result of stress, teeth grinding can wear down the teeth over time and also cause chipping, cracking and even soreness of the jaw. Preserve your smile – and get a better night's sleep – by adopting a soothing nighttime ritual into your bedtime routine such as meditation or deep breathing. Dr. E also recommends wearing a mouth guard while you sleep to prevent any excessive teeth grinding. 
3. Excuses, Excuses.  In a hurry? Feeling lazy or tired? These common excuses often cause patients to skimp on their oral hygiene routine. However, inadequate brushing and flossing leads to tooth decay, cavities, and gum disease. That's why Dr. E urges everyone to remember that being conscientious about brushing and flossing (daily!) is both a simple and preventative way to maintain a healthy smile. 
4. Too Much Brushing. Just as not enough brushing can hurt your smile, brushing too hard, or even too often, can irritate the gums and teeth. Always opt for a soft-bristled toothbrush and aim to gently massage the teeth versus using excessive pressure when brushing your pearly whites.  
5. Biting Off Too Much. Are you using your teeth in place of your scissors or hands? Stop! While it may seem more convenient in the moment to use your teeth to grab or open an item when your hands are full – or when the scissors are too far out of reach – this can result in unsightly chipped or cracked teeth. Resist the urge and find someone or something else to help in the moment instead of risking your smile for the sake of convenience!
6. Poor Habits/Choices.  Study after study shows that what you choose to put into your mouth affects your oral health over the long term.  That's why it's so important to make healthy choices and forgo bad habits that can harm your smile such as smoking and consuming sugary, sticky foods and drinks.  Healthy nutritional and lifestyle choices also contribute to overall health and wellness. Dr. E recognizes that we all indulge ourselves a bit more than usual during the holidays, but she encourages patients to try to compensate by brushing more frequently and resuming good habits as soon as possible. 
This holiday season and beyond, keep your smile healthy and sparkling white by avoiding the NAUGHTY dental habits above in favor of healthy habits that land you on your dentist's NICE list all year long!
Happy holidays from the entire Dr. E Cosmetic & Family Dentistry team to you and yours! Have a safe, blessed season and we look forward to serving your dental needs in the New Year!