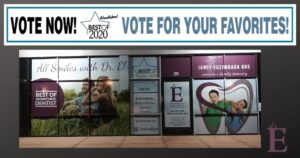 Vote for Dr. E for The Best of Ahwatukee Dentist for 2020
Happy New Year to our patients, neighbors and staff! The New Year ushers in a new opportunity for us to enjoy our amazing Ahwatukee community! We are very fortunate to have so many terrific local businesses and services at our disposal to make life easier and more enjoyable during 2021. In this spirit, we would like to highlight the BEST OF AHWATUKEE with you by sharing some of our favorite businesses and services in the neighborhood.
As you check out the roundup below, please don't forget that voting is now open through February 1 for "Best of Ahwatukee" 2020! So, be sure to vote daily for Dr. E in the Best Dentist and Best Customer Service categories, along with supporting your other favorite businesses. Just click here: https://www.surveymonkey.com/r/KBMD8JQ.
Without further ado, here is a quick snapshot of a few of the past Best of Ahwatukee winners. We encourage you to give them your support by shopping and dining locally and remember to vote for your favorites again in the Best of Ahwatukee 2020 campaign!
BEST OF AHWATUKEE 2019 WINNERS:
BEST BRUNCH
Snooze, An AM Eatery: https://www.snoozeeatery.com/branches/1475/snooze-ahwatukee/
For fresh, delicious and creative breakfast dishes, Snooze is the place to be! Regulars swear by the overstuffed Snooze Breakfast Burrito and signature Pancake Flight but diners simply can't go wrong with any of the inventive and to-die-for menu offerings that are highly worth getting out of bed for!
BEST LOCAL BURGER & RESTAURANT
Hillside Bar: http://www.hillsidespot.com/beans
With locally sourced ingredients, their Sonoran-style menu is a hit with locals and nonlocals alike! While the whole menu is sensational, their burgers are freshly-ground (never frozen!) and cooked to perfection on a mesquite grill. Enjoy that burger with a cold beer – they have more than 100 craft beers to choose from!
BEST WINE LIST
My Wine Cellar: https://thecellarphx.com/
With a revolving line-up of some of the world's best wines – from whites to reds to rosés to bubbles – a visit to My Wine Cellar is a must! They also serve craft beers along with a selection of delightful and shareable small plates to please every palate.
BEST COFFEE SHOP
The Buzzed Goat: http://www.thebuzzedgoat.com/
Who needs the big chains when you can get a hand-crafted, custom-tailored coffee to your liking at The Buzzed Goat. They are known for brewing their own cold brew and the majority of their menu offering is locally sourced. They also proudly partner with the Armer Air Foundation to provide free beverages to our valued first responders.
BEST DESSERTS, SWEETS & TREATS
Nothing Bundt Cakes: https://www.nothingbundtcakes.com/bakery/AZ/phoenix-ahwatukee?utm_source=google&utm_medium=yext
Have something to celebrate? Or just looking to sweeten someone's day? Nothing Bundt Cake is the go-to spot for delicious cakes, cupcakes and bundlets! They offer customizable, themed cakes and cupcakes for every occasion featuring delectable flavors to choose from such as White Chocolate Raspberry, Pecan Praline, Carrot, Red Velvet and more.
BEST HANDYMAN
Maldonado Home Repair Services: https://www.facebook.com/Maldonado-Home-Repair-Services-434095570303811/
This mom and pop business earns rave reviews for their dependability and trustworthiness. Customers appreciate that they are willing to take on even the smallest jobs that others may decline. In addition to general handiwork, they also tackle irrigation issues, sprinkler repair, painting, lighting, carpet cleaning and they even help replace cracked roof tiles. 
BEST PET SERVICE
Foothills Pet Resort: https://foothillspetresort.com/
For more than 14 years, Foothills Pet Resort has been providing the best possible experience for your much-loved pets. They offer services and accommodations to fit every pet's needs, from boarding to daycare to grooming. They also offer a range of your favorite pet supplies, food, toys and treats. 
BEST LANDSCAPER
Arizona Specialty Landscape: https://azspecialtylandscape.com/
The licensed and insured team at Arizona Specialty Landscape is committed to providing customers with elegant, outdoor living spaces. They offer full design services, landscape maintenance, installation of masonry flagstone, pavers, concrete, sprinklers, drip systems and more.
THE DR. E COSMETIC & FAMILY DENTISTRY TEAM… STILL THE BEST!
Dr. Janet Euzarraga is so grateful to have been voted BEST DENTIST and BEST CUSTOMER SERVICE four years in a row! She and her caring team are passionate about providing a comfortable and compassionate environment for Ahwatukee families using the best dental tools and technologies available. With 30 years of dental experience, Dr. E offers creative, customized solutions for a beautiful smile within every patient's budget. The practice even offers a dental savings plan to assist those without any dental insurance. They specialize in dental hygiene, veneers, crowns, whitening and everything in between, including cutting-edge cosmetic dentistry procedures. Dr. E's affordable, full-service practice ensures that patients of all ages achieve the healthy, beautiful smile they deserve! Click here for a full list of Dr. E's dental services: https://drefamilydental.com/our-services/
As we kick off the New Year, please remember to support your local Ahwatukee businesses and vote daily in Best of Ahwatukee 2020's campaign!  Be sure to contact Dr. E to schedule your family's appointments and see firsthand why we are named Ahwatukee's BEST dentist! 
480-494-2435