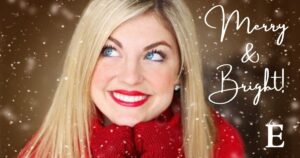 Keep Your Dentist MERRY and your Teeth BRIGHT This Holiday Season
The team at Dr. E Cosmetic & Dentistry has visions of bright smiles dancing in their heads this holiday season. That's because they are now offering patients GLO in-office and at-home teeth whitening treatments. GLO is a fast, safe and pain-free method for helping patients achieve sparkling smiles they will want to show off – especially when the masks are removed!
What is GLO Teeth Whitening?
It is a safe, professional teeth whitening treatment that is made in the USA and recognized by the FDA. GLO stands for Guided Light Optics and the system utilizes a gentle, warming heat acceleration technology in combination with a professional strength whitening gel to deliver fast results to make your teeth bright.  In fact, it works twice as fast as other teeth whitening treatments without causing any unwanted discomfort or sensitivity.
How Does GLO Teeth Whitening Work?
Dr. E and her team administer a layer of safe, clinically proven hydrogen peroxide-based gel to the front of the teeth. The best part is that it only takes a few seconds to apply the gel and there's no need for awkward or messy trays or strips. The gel is brushed onto the teeth in a thin layer, a mouthpiece is inserted, and a safe, yet powerful, LED light interacts with the gel to bring about bright, powerful results in less than an hour. Patients also have the option to use GLO treatments at home with a Power Pack or Glow Whitening App. Not only is GLO low maintenance and painless, it's even vegan and gluten-free!
Is GLO Teeth Whitening Right for Me?
Popular to contrary opinion, teeth whitening isn't just for smokers or coffee addicts.  It is for anyone who wants to keep their smile looking bright and beautiful.  Teeth whitening also greatly benefits those who may be self-conscious about their smiles — especially if a big event is coming up such as a job interview, reunion, or family photos. It has been proven that brightening your smile not only boosts self-confidence but teeth whitening also helps you leave a great first (and lasting impression) on others.
The other positive to using the GLO system is that patients have the option to choose professional in-office whitening treatment administered by Dr. E OR they can opt for the complete flexibility and convenience of using the GLO treatments at home. Dr. E will consult with you to come up with an optimal teeth whitening treatment plan that works best for you. She will determine the extent of the whitening to ensure a natural, bright smile and either administer the GLO treatments while you sit back and relax, or send you home with the user-friendly whitening kits. Either way, patients receive great results!
Why not end 2020 with something to smile about?!  Treat yourself and your family to GLO teeth whitening treatments this holiday season and let Dr. E help you head into the new year with some much–needed sparkle and good cheer!
Contact Dr. E Cosmetic & Dentistry today for a GLO teeth whitening consult!
480-494-2435