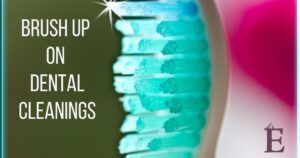 It's Time to BRUSH UP on Dental Cleanings
Ask almost any dentist what they are most adamant about when it comes to their patients' dental health and they will likely say that regular dental cleanings are a MUST! This holds true even despite the COVID-19 pandemic. The Dr. E Cosmetic & Family Dentistry team are taking strict precautions, following recommended guidelines and using maximum protective gear to ensure the health and safety of our staff and patients.
But what should patients expect during a dental cleaning and why are they SO important to your dental health? Here's everything Dr. E wants you to know before your next dental exam:
What to Expect During a Dental Cleaning
First and foremost, your dental team wants you to be comfortable — from the moment you recline in the chair, to your very last swish and rinse!  The two main objectives of your dental exam are for the dental team to perform a check up and thoroughly clean your teeth.
Before diving into the deep clean of your teeth and gums, the dentist will determine if it is appropriate to take x-rays. These are usually administered once a year but may be recommended more frequently to assess specific dental concerns or issues.  The hygienist will then use a small mirror to check around your entire mouth for signs of tooth decay, gum disease or more serious health concerns such as infection or oral cancer. Next, special tools are used to scrape and remove the buildup of plaque and tarter on the surface of the teeth.  The more buildup, the longer the process. To prevent excess buildup, be sure to keep up with your regular dental cleanings and practice good flossing and brushing habits at home. Finally, it's time for the whir of the magic brush! The dentist uses a high-powered electric toothbrush with a special toothpaste to help scrub and polish your smile to perfection. A fluoride treatment is then applied to help safeguard your gleaming smile until your next dental visit.
Your Hygienist is More Than a Friendly Face
He or she plays a huge role during your dental cleaning! Hygienists have specialized training in oral hygienic care and their job during your appointment is to help meticulously prep you and your smile before your consultation with the dentist.
Dr. E's skilled, caring hygienists have decades of experience working alongside her in dentistry. Michele King has been a practicing hygienist since 1992 and she has spent more than 15 years with Dr. E. She graduated from Phoenix College Dental Hygiene Program and her passions (other than dentistry, of course) include HGTV, dining and dogs!
Carmen Salaiz has been with Dr. E since 2013 and, prior to that, she was a practicing dentist in Mexico. Carmen earned her dental degree from Baja California University Dental School in Mexicali, Mexico and she later moved to the United States and attended the Phoenix College Dental Hygiene Program. Carmen is fluent
in Spanish and her hobbies include hiking and biking around our beautiful desert.
Why Should I Get Dental Cleanings?
The American Dental Association recommends that patients get dental cleanings twice annually. And the good news is that most dental insurance plans cover two cleanings a year.. so there's no reason to put off your appointments! Seeing your dentist for regular cleanings helps ensure that you maintain proper health of your teeth and gums.  These visits also allow dentists to address any dental concerns like gingivitis or cavities early before they become an even  bigger burden on your health and wallet.  Getting your teeth cleaned regularly can also help prevent other serious health complications such as heart attack and stroke can be linked to dental health.  
Now that we have shared why dental cleanings are so important, what happens during a dental exam, and why you are in the best of hands with Dr. E and her caring team, it's time for YOU to take action. Contact Dr. E today to schedule your family's upcoming dental cleanings. We are standing by and we can't wait to help you maintain your sparkling smiles!
480-494-2435
https://drefamilydental.com/