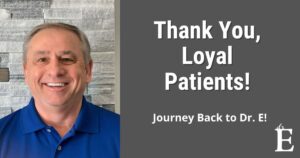 Thank You, Wayne W! We are SO Grateful for Patients Like You!
The Dr. E Cosmetic & Family Dentistry team is so very thankful for happy patients like Wayne W!  He is a longtime patient of Dr. E and he has an amazing story to share about his positive experience with Dr. E over the years.
Wayne's journey with Dr. E began 20 years ago in Illinois, where Dr. E originally began practicing dentistry. As a 14-year-old hockey player, Wayne had knocked 6 front teeth out during a particularly rough game. After years of treatment with various dentists, Wayne found Dr. E., who skillfully replaced Wayne's missing teeth with a dental bridge. But the story doesn't stop there…
Fast-forward 20 years later. Wayne has since seen many more dentists and they all comment on what great work Dr. E performed. A typical bridge lasts roughly 5 years while Wayne's bridge has lasted 20+ years! Now married and living in Arizona, Wayne and his wife have found themselves discouraged after seeing dentist after dentist who prioritize slick marketing over compassionate, honest dentistry.  They typically try to sell him on unnecessary services to the point where Wayne felt like he was continually "going through a drive-thru and being asked if he wanted to supersize everything!" After seeing 3 dentists in 5 years, Wayne suddenly had an epiphany.  He remembered that Dr. E got married and moved from IL to Arizona several years ago. It was time to track his favorite dentist down!
Wayne did not know Dr. E's married name, so some sleuthing was necessary. He hit the Internet to identify any and all dentists named Janet in Arizona. He then called all of these practices until – finally — he was able to locate Dr. E!  Ironically, it was time to replace his original bridge from Dr. E 20 years earlier. Dr. E worked in conjunction with a surgeon (who says he always recommends Dr. E to other patients) to implant a replacement bridge. Wayne and his wife are thrilled with how incredible the new implants look! Wayne also had Dr. E replace a crown, oversee his root canals, and assist him with teeth whitening.  His wife, who requires 3 cleanings annually following periodontal surgery, sings Dr. E's praises as well.  Wayne and his wife are so impressed by how knowledgeable, honest and caring she is and they appreciate that she takes the time to explain everything each step of the way. It's no surprise to either of them that Dr. E has been voted Ahwatukee's Best Dentist three years in a row!
In addition to praising Dr. E, Wayne also give kudos to her amazing staff. He considers the entire Dr. E Cosmetic & Family dentistry team to be outstanding, calling them "professional and so down-to-earth but boy do they know their stuff… the whole office is good people!" They have gone above and beyond, even keeping the practice open late on a Friday since it was the only window Wayne had to come in for treatment.
Reflecting on his experience with Dr. E, Wayne wants other patients to know that "Dr. E has a good heart, she's a good person, and she's very good at what she does. I've had enough in-depth work so I should know! When it comes to dental knowledge, she is the best and then when you add in her terrific, caring personality it's just an A+ experience all around. I would challenge anyone to find a better dentist."
We extend a heartfelt thank you to Wayne for his loyalty and for taking the time to share his positive experience with Dr. E Cosmetic & Family Dentistry.
Do you have a dental success story to share? We would love to hear about it!  Please email us at info@drEfamilydental.com and be sure to let us know if we have your permission to share your experience with Dr. E on our website and social media channels.  Finally, thank you to our awesome patients! We are so grateful to you for entrusting our team with your dental care!