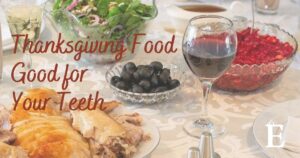 Which Thanksgiving Foods are Good for Your Teeth?
This time of year, we look forward to gathering around the table and feasting on traditional holiday dishes. But did you know that some of your favorite comfort foods may harm your teeth? While other holiday staples are actually good for your teeth?   
We're not just talking turkey! By all means, the Dr. E Cosmetic & Family Dentistry team encourages you to indulge yourself during your Thanksgiving feast. But, you can keep scrolling to learn more about which Thanksgiving foods are good for your teeth and which foods you should enjoy in limited quantities…
Turkey: GOOD! The bird's the word! Full of protein and low in fat, turkey also contains excellent nutrients such as niacin, vitamin B6, vitamin B12  and zinc. This combo translates into healthy teeth and bones. So, gobble, gobble!
Cranberry Sauce: NOT-SO-GOOD! While cranberries are considered a true superfood, cranberry sauce typically contains high sugar content in order to balance its tartness. In addition, cranberry sauce tends to stick to and stain the teeth, increasing the risk for decay. So while it may be the perfect complement to your turkey, limit the quantity you consume for a brighter, healthier smile.
Sweet Potatoes: NOT-SO-GOOD! Chock full of vitamin A and C, sweet potatoes and yams keep your gums healthy and boost your body's brain health. There are many low sugar and low fat recipe options to choose from, but if you can't resist grandma's candied yams complete with marshmallows, be sure not to overdo it and brush well afterwards!
Mashed Potatoes: NOT-SO-GOOD! Who doesn't love a creamy mound of mashed potatoes and gravy piled high on your Thanksgiving plate?  Just understand that while this holiday staple may hit the spot, it will also leave sugary spots behind on your teeth thanks to its starchy components.  Opt for one scoop instead of two!
Mac n Cheese: GOOD! Overall, we say "yes, please," to more macaroni and cheese. Why? The base of this tasty side dish features an abundance of cheese and milk. The high amounts of calcium help strengthen your teeth as you enjoy each comforting bite.
Green Bean Casserole: GOOD! Bring on the green beans! They are a rich, healthy source of vitamins A, C, and K along with fiber and folic acid. We recommend that you to try to keep the casserole healthier by topping it with toasted almonds versus fried onions… and be sure to floss well after your meal to remove any additional green bean "debris" from your teeth.
Pumpkin Pie: GOOD!  No Thanksgiving feast would be complete without scrumptious pumpkin pie for dessert! The good news is that the Vitamin A in pumpkin pie helps keep your gums healthy and strengthens tooth enamel. However, the pie's high sugar content means you should enjoy a slice – but your teeth will thank you if you have enough will power to refrain from doing so twice.
We can all use an extra big dose of comfort during Thanksgiving 2020! So, by all means, indulge and enjoy your favorite holiday foods but keep the above in mind before you reach for the leftovers. : )
The Dr. E Cosmetic & Family Dentistry team is so grateful for your loyalty and trust. We wish all of our staff and patients a happy, healthy and safe Thanksgiving!