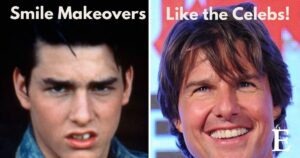 How to Achieve A Picture Perfect "Celebrity" Smile
When celebrities smile big for the camera, do you ever wonder just how their teeth appear so seemingly flawless? What exactly goes into achieving the perfect star-studded smile? Well, chances are, behind every perfect pair of pearly whites is a very capable dentist!
The good news is that cosmetic dentistry isn't just for the celebrity set – it is growing in popularity among all patients. That's because today's procedures are safe, effective and there are options to suit every budget. Advances in cosmetic dentistry make it possible today for virtually anyone to achieve a million dollar celebrity smile. That's right — whether you're Tom Cruise or just your average Jane or Joe — there are common cosmetic dentistry procedures and techniques that are accessible to everyone … and they deliver the same star-studded results!
Here's a roundup of some of the most popular and proven cosmetic dentistry procedures that celebrities use to achieve their camera-ready smiles. And the good news is that even if you're not a Hollywood star, you will still be given the celebrity treatment by the Dr. E Cosmetic & Family Dentistry team when you come in for any of the following highly recommended cosmetic dentistry treatments:
Teeth Whitening: This popular and proven method of removing dental stains and brightening smiles is certainly in high demand for that celebrity smile. But did you know it is also the most requested procedure among 40-60 years-old patients? The key is to approach teeth whitening properly, which means "as recommended" by your dentist. For example, Dr. E utilizes Glo Teeth Whitening treatments because they are safe (made in the USA and approved by the FDA), effective and they can be administered at home or in the dental office. The Glo system features a gentle, warming heat acceleration technology in combination with a professional strength whitening gel to deliver fast and flawless "A-list" results.
Dental Veneers: While this technique is a favorite of swoon-worthy celebs like Zac Efron, George Clooney and Miley Cyrus, it is also an effective and accessible alternative for all dental patients. Veneers are utilized to transform cracked, chipped and/or broken teeth, excessively stained teeth, gaps in the teeth, worn down teeth due to clenching or grinding, and misaligned teeth (sometimes in concert with orthodontia).  Thin, custom "shells" are bonded to the patients' natural teeth to enhance coloration, shape, close spaces, and create an overall consistent appearance. The results are typically quick and fantastic, with patients ultimately achieving an enhanced yet natural-looking smile with little to no discomfort.
Bonding: It's no surprise that celebrities opt for bonding dental treatments when they want to repair a chipped tooth or close an unsightly tooth gap before appearing on camera.  Dr. E also recommends bonding to patients to remedy these situations as well as to protect exposed roots or restore decayed teeth. During the bonding procedure, Dr. E adheres a tooth-colored composite material directly to the tooth to restore color and shape. The natural tooth enamel is then fused with a bonding material such as porcelain or resin that results in a stronger tooth that not only looks, but also feels natural.
Crowns. Rumor has it that the president himself, Joe Biden, spent hours in the dental chair to achieve his "winning" smile for the campaign trail. This includes his dentist administering porcelain crowns to restore the appearance and function of some of his teeth. This transformative cosmetic procedure is usually done within two office visits. Dr. E and her team use the highest quality dental materials and technology in order to achieve the best, most natural looking results for patients who need crowns to repair a damaged smile – whether it be for the camera or simply to improve their self-confidence.
Implants. Let's be clear, we're talking about dental implants! And this procedure is ideal for patients who wish to repair existing bone or tooth loss. An artificial tooth root is surgically implanted into the jaw to fuse with natural bone. A crown is then later attached to the implant to replace the original tooth. Dental implants are popular because they are extremely durable, long lasting and they do not decay. Dr. E – and other "celebrity dentists" commonly work in concert with oral surgeons when they recommend dental implants to their patients.
It's not hard to see why celebrities opt for the above cosmetic dentistry procedures in order to flaunt their million dollar smiles! But just remember that you don't have to be a celebrity to achieve a picture perfect smile. You can visit the Dr. E Cosmetic & Family Dentistry team for a range of cutting-edge cosmetic dentistry procedures customized to your needs and budget. And rest assured you will receive the same "white glove" treatment and results as your favorite Hollywood stars!
Contact the Dr. E Cosmetic & Family Dentistry team today for a cosmetic dentistry consult: 480-494-2435.