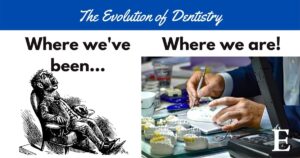 The Evolution of Dentistry: Where We've Been and Where We Are
The evolution of dentistry may have some aspects that surprise you. Dentistry is still considered a fairly young profession but it has come quite a long way since the invention of toothpaste in the 1800s and the introduction of teeth whitening in the 1980s! There have, of course, been many other dental advancements along the way. But there is one important factor that has shaped how dentistry has changed and evolved so much over the years… our collective mindset toward dentistry has changed drastically!
Yes, technological advancements have greatly impacted the dental industry but our overall views of how we approach dentistry and oral health have evolved as well. Today, dentistry has become more patient-focused than ever before. This shift in mindset has led to an emphasis on preventative versus restorative dentistry, with dentists recognizing and prioritizing patient education, communication and comfort during all stages of dental care.
This modern, patient-centric approach to dentistry has helped drive the introduction of many of the cool new technologies, treatments and advancements that patients and dentists enjoy today. Here are some examples that show just how far dentistry has evolved over the years:
At-Home Teeth Whitening. The clumsy trays and messy strips of the '80s and '90s have been replaced by cutting-edge teeth whitening kits that can be administered safely and effectively either by your dentist or at home. Rather than multiple trips to the dental office, today's teeth whitening treatments are all about convenience, flexibility and comfort. For example, Dr. E offers the GLO teeth whitening system which allows patients to see results at home utilizing safe but powerful LED technology that delivers fast results — a whiter smile can be achieved in less than an hour!
Smart Toothbrushes and Apps. Today we have more options than ever when it comes to brushing and flossing. But do you still worry if you're brushing too hard? Or not long enough? The latest "smart" toothbrushes help you get the job done thoroughly – and with virtually no margin for error! Electric or smart toothbrushes have built-in sensors that help you brush more thoroughly by providing real-time feedback as you brush. The models with apps even alert you if you've missed a tooth! These apps often feature rewards and games geared toward kids to help promote good brushing habits.
Natural Materials. Who doesn't appreciate a mouthful of stunning, sparkling pearly whites? That's why the cosmetic dental industry has worked so hard over the decades to bring patients options such as natural-looking composite fillings and products such as Invisalign — rather than making them continue to hide a mouthful of unsightly metal. Today's implants are also engineered to appear as natural looking as possible.
Dental Digitization. Helping patients achieve a beautiful "bite" is a major goal of dentists.  Fortunately, today they have access to technologies that help them perfect your bite and your overall smile. Instead of relying on articulating paper alone, dentists can now use digital technology to help balance patients' occlusions with more precision and accuracy. Dr. E and her team utilize cutting-edge T-Scan digital technology to treat and balance occlusions more and expertly and efficiently.
Laser Dentistry. The early '90s ushered in the advent of laser dentistry, which continues to enhance the dental comfort of patients during teeth whitening and procedures such as dental fillings and crowns. Rather than poking, prodding and drills, laser diodes are used today to diagnosis, monitor and treat cavities. Compared to non-laser treatments, non-invasive laser dentistry results in less bleeding, less need for sutures, and less chance of infection. Therefore, this technology presents a win-win for dentists and patients alike!
Computer-Assisted Dentistry. Computer-assisted design, or CAD dentistry makes common restorative dental procedures more efficient, precise and comfortable.  Complex restorations such as crowns, bridges, veneers, dentures and implants used to involve gooey, messy trays and molds – not to mention much more time and margin for error. Using CAD technology, dentists can improve accuracy and reduce time by taking digital impression rather than sending them out to a lab. Patients benefit from restoring their smiles more quickly, accurately and comfortably than the previous "old school" dental methods.
No More Needles? The dental profession continues to innovate to find ways to make patient safety and comfort a priority. With this mindset, dreaded needles could someday become a thing of the past! Forward-thinking dental practices are already experimenting with electronically-administered anesthesia. The prick or poke of the needle is replaced by tiny electrical currents that administer the necessary pain medicines. This exciting "ouchless" approach to dentistry is expected to further progress into the next decade.
Regenerative Dentistry. As our understanding of the cellular growth of teeth deepens over the decades, we will see the rise of regenerative dentistry. This biological therapy will be employed to restore damaged teeth and even treat tooth sensitivity issues. Groundbreaking regenerative therapies may even make it possible someday for a patient's tooth to repair itself naturally — without the need for any type of expensive or invasive dental procedure!
From patient-centric dental lounges to innovative products and technologies that put patient comfort and convenience first, the way in which we approach dental care continues to evolve. The Dr. E Cosmetic & Family Dentistry team continues to embrace these new technologies and approaches in order to deliver the best smiles – and the best dental care experience — to patients of all ages in the East Valley.
Contact us today to see firsthand how we put our patients first when it comes to  groundbreaking dental care dental comfort! 480-494-2435