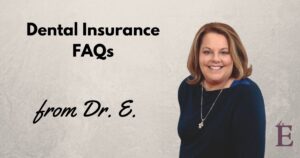 Dr. E Shares Some FAQs About Dental Insurance
Nearly 80% of American dental patients have dental insurance. While dental insurance coverage varies from policy to policy, it is good to have an overall understanding of how to best utilize and leverage dental insurance coverage to protect one of your most valuable investments —  your smile!
With this in mind, the Dr. E Cosmetic & Family Dentistry team has compiled some frequently asked questions and answers about dental insurance. Find out what you need to know about dental coverage before your next dental visit:
What are the main types of dental plans?
There is a choice when it comes to your dental coverage! Even if your employer offers dental benefits, you can opt out and choose to research and find a plan that best suits you and your family's dental needs and budget. In fact, that is why there are a range of dental insurance options on the market today. Here are the most common types of dental coverage, each with unique pros and cons.:
Indemnity Dental Plan: With an indemnity plan, you can choose any dentist you wish, but you are required to pay up front for all of your dental work and then file a claim for reimbursement. These types of plans are also referred to as fee-for-service plans. They tend to be less common and more expensive as dental carriers often only reimburse for a portion of the services that you pay up front for.  However, patients opting for this plan favor the freedom of choosing any dentist they wish.
Preferred Provider Organization (PP0): Patients participating in a PPO reduce their dental costs by choosing from a large range of "in network" dentists. While venturing out of network for dental care is permissible, any dental treatment costs will be higher. In a PPO, Dentists affiliate with a network and set their fee structures with insurers. Patients can switch between dentists and specialists within the network buy they may pay a higher premium and will likely need to meet a set deductible. Most PPO dental plans also set annual coverage limits.
Dental HMO Plan (DMHO): A DMHO offers a cost-effective approach to preventative dental care. Patients select a primary, in-network dentist and must receive a referral in order to see a different in-network specialist. Some patients appreciate that a DMHO clearly defines any out-of-pocket costs. While these plans are arguably the most cost-effective, they also tend to carry more restrictions, such as limiting the amount of dental visits or allowable procedures/coverage.
Referral Dental Plan: While technically not a true insurance plan, this option serves as a contract of sorts between participating dentists and patients. The way it works is that a group of dentists agree to discount their dental fees to participating patients who buy into the plan. Patients then pay for their treatments at the contracted rate without filing any dental claims.
Which is better? Private or individual dental coverage?
Most patients have private coverage through their employer or a group program and find that this is the best and most affordable option for their dental needs. Typically, larger employers are in a position to offer more generous dental benefits (usually for full-time employees only) than smaller employers.  That's why both employers and workers view dental benefits as a nice perk! However, patients who don't receive dental coverage through their employer – or who wish to seek out a more affordable option – always have the choice to pursue individual dental coverage that best meets their specific needs.
Will dental insurance cover all of my dental needs?
Most dental plans typically follow the 100-80-50 reimbursement structure. This means that only preventative care treatments, such as exams, bi-annual cleanings and x-rays, receive coverage at 100%. Basic procedures such as fillings, extractions and root canals are usually covered at 80%. Finally, major procedures such as implants, bridges and crowns may only be covered at 50%. The majority of dental plans exclude orthodontia and cosmetic dentistry from coverage since they are not considered a medical necessity. Also, seniors should be aware that Medicare doesn't cover dental treatment and Medicaid only covers the dental needs of minor children.
Do dentists charge patients differently depending on which dental insurance they have?
No! While different dentists may set different rates from each other based on their operational costs, dentists charge the same fees to all patients who visit their practice regardless of their dental insurance coverage. Reputable dentists will always recommend treatments that are necessary for proper dental health, regardless of where the treatment falls in the 100-80-50 coverage structure.
What should I keep top-of-mind when it comes to my dental coverage?
Whether you receive dental benefits from your employer, or choose your own individual plan, it is essential to research which dentists are considered in-network for your plan. Familiarize yourself with what the dental policy does (and doesn't) cover to avoid the potential for sticker shock. Also, if you are obtaining dental coverage specifically to help pay for a major restorative treatment, remember that many dental plans have 6-month waiting periods before they will cover such services. Seniors should also be mindful that Medicare typically does not cover dental care and Medicaid usually only covers dental care for minors.
How can I maximize my dental coverage?
You can get the most out of your dental coverage by keeping up with fully covered preventative services such as scheduling regular check ups with your dentist and receiving your two cleanings per year. Also, if your dentist recommends treatment, follow up ASAP so that you don't wait too long and risk more damage to your smile and your wallet! Finally, be mindful of your dental plan period and ensure that you schedule coverage within the plan's deadline. Dental plans typically don't have rollover provisions – so be aware that the "use it or lose it" rule applies to most dental coverage plans! 
What if I don't have any dental insurance?
No coverage? No problem!  Dentists recognize that not every patient is fortunate enough to receive dental benefits through their employer and they understand that some individuals don't have the ability to afford individual coverage.  Therefore, many dentists permit patients to pay out-of-pocket for their dental expenses. Additionally, some caring dentists go out of their way to ensure that patients don't forgo the care they need even if they don't carry dental insurance. For example, Dr. E offers patients with no dental insurance a dental savings plan designed with affordability and accessibility in mind. There's immediate eligibility for all patients without any preauthorization as well as no limitations for any pre-existing dental conditions.
Whether you receive dental coverage from your employer or you opt to seek out your own dental insurance coverage, it's important to take the time to research and understand your coverage options. The bottom line is that you and your family will feel more protected and see your dentist more regularly if you have some type of dental coverage in place. And that makes the Dr. E Cosmetic & Family Dentistry team smile!
Contact us today to learn about how we accommodate the dental needs of patients with all types of dental coverage policies and needs! 480-494-2435.