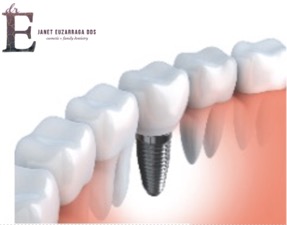 According to the American Academy of Implant Dentistry, three million Americans have dental implants and that number is growing by 500,000 a year! Why such rapid growth?  Read on to learn more about dental implant benefits and why they are a great choice for a growing number of patients.
Dental implants have come a long way. The history of dental implants can be traced back to ancient Egypt, where carved seashells or small polished stones were placed into the jaw to replace missing teeth. We've come a loooong way since then! Today's dental implants are usually made of titanium, a biocompatible and sturdy material that fuses with natural bone to lock the implant into place. Implants now last longer than ever before and they're easier to place and restore than the implants from decades ago.
Demand for dental implants has never been higher. According to the Centers for Disease Control and Prevention, by age 17, seven percent of people in the United States have lost at least one permanent tooth.  By age 50, Americans have lost an average of 12 teeth (including wisdom teeth)!  If you're one of these statistics, and if you're self-conscious as a result, dental implants present an attractive option. Especially when one takes into account that the success rate of dental implants is extremely high – reported at 98 percent!
Chances are, you're a good candidate for dental implants. If you've suffered the loss of a tooth due to decay, gum disease, or even from a trauma, you can benefit from dental implants. Dental implants (versus dentures) are preferred – by dentists and patients alike — for maintaining a bright, youthful smile for patients, lasting into  their golden years.
What can I expect from a dental implant procedure? Above all, expect a smooth, easy procedure! Typically a local anesthesia is used as the dentist implants a titanium screw anchor into the jawbone. During a gradual healing period, bone grows around the implant to secure it and a replacement tooth is later attached to the metal post. This can be performed on one or several teeth, depending on the patient's specific needs. To ensure the most favorable outcome for dental implant patients, Dr. E works closely with the best oral surgeons and periodontists in the area. A specialist referred by Dr. E will handle the implanting of the screw while Dr. E will follow up to secure and restore the tooth.
What are the key benefits of dental implants? There are many! In terms of the procedure itself, unlike with dentures, patients do NOT have to worry about messy adhesives or pastes. Also, there is often no need to perform extensive dental work on the neighboring teeth in order to do a bridge or partial denture. An implant will replace a tooth with a tooth and will last longer than the conventional bridges or partials. So, the results are stronger and longer lasting compared to other types of restorative or cosmetic dentistry, and patients report that their implants have a natural, unobtrusive fit and feel.  They are also much easier to keep clean. Simple acts like smiling and chewing just feel naturally better!
And that gives Dr. Janet Euzarraga, DDS, and her team something to smile about in return!