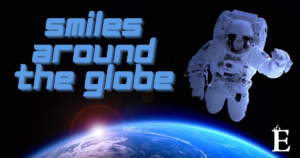 Study Reveals Best Dental Practices from Around the Globe
Who in the world has the best smile? A fascinating 2021 global Oral Health Awareness Survey commissioned by Sunstar reveals that where we are from around the globe reveals A LOT about our dental care attitudes and habits. Along with the U.S., the following nations were included in the study: Argentina, Brazil, China, France, Germany, Indonesia, Italy, Japan, Mexico, Netherlands, Singapore, Spain, Thailand and the UK.
BUT, before we share some of surprising results from the study, Dr. E wants to give up one major survey spoiler. And it's something all of us should universally be proud of:  
Overall, as a global population, we really DO care about maintaining a healthy mouth and smile!
While the study looks at dental attitudes and habits from individual countries, it's reassuring to know that we share a common intention and commitment around the globe to preserving our dental health, giving us the best smile possible. With this in mind, here's a recap of some of the key findings from the Sunstar survey that highlight best worldwide dental practices:
The Best Brushers – Give it up to the UK, with 63% of British respondents claiming to brush twice daily. Incidentally, they also have the highest response globally for brushing with fluoride toothpaste. We should also point out that an admirable 33% of Italians, Argentinians and British say they never forget to brush!
Most Diligent with Dental Visits – Good job, Germany! Roughly 45% of their respondents claim to visit the dentists twice annually and, therefore, 31% of Germans profess to having no problems with their oral health!
Oral Health… Who "Gets" It? Dentists around the world want patients to recognize that is it more than about having the best smile. There is a strong link between oral health and overall health. So, which countries are doing the best job in educating patients? That would be Mexico and Brazil.  Approximately 81% of Mexicans openly take advice from their dentists while 52% of Brazilians report that they have a great understanding of the link between oral health and general health.
Best Access to Dental Care – Accessible, affordable dental care is a critical component of a population's ability to maintain proper dental health. With semi-privatized and universal care options at their disposal, German and Japanese patients benefit from the best access to dental care. Germany is reported to have the most dentists and dental technicians than any other EU member state while Japan offers everyone access to dental care and treatment at a low cost. In fact, every Japanese public school is allocated a dentist to provide education along with free check-ups.
A bright, white smile is universal!  No matter which corner of the globe you may be from, we all share a desire for bright, healthy smiles. Therefore, when questioned about which cosmetic treatment they would select to improve their smiles, an overwhelming majority of participants from all over the globe selected tooth whitening to get the best smile.
Before we sign off from our little corner of Ahwatukee, the Dr. E Cosmetic & Family Dentistry team wants to leave you with some final fun and quick tidbits from the study:
Who's Tops at Tongue-Brushing? Brazil
Who's Great at Gargling? China
Most Likely to Turn Down a Cosmetic Procedure? The Netherlands (they claim to be the happiest and most confident with their smiles)!
Most Likely to Complain of "Mask Breath?" Thailand
Most Likely to Use Dental Gizmos? China (they use the electric toothbrushes more than the rest of the world, as well as air flossers and other cool dental gadgets)
Biggest Cavity Culprits? Japan (they are the guiltiest for loving their sugary snacks and treats. Surprise, surprise, they also report the most fillings)!
It may be fairly surprising that the U.S. was neither at the top or the bottom within any of the key survey categories. Perhaps this shows that while we have come a long way as a nation in terms of our oral health IQ and habits, we can continue to learn more from our neighbors around the globe. And the Dr. E Cosmetic & Family Dentistry team is always at your service to share the latest dental developments and recommendations!
We're all in this together when it comes to dental health! Contact the Dr. E Cosmetic & Family Dentistry team today for a consult! 480-494-2435