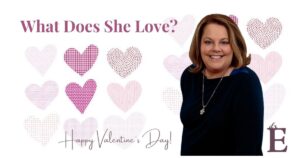 Happy Valentine's Day from Dr. E!
What does she love other than being your dentist…
Thank you, patients, for showing Dr. Janet Euzarraga so much love! Year after year, she is recognized in the Ahwatukee Foothill News "Best of Ahwatukee" edition as Best Dentist and Best in Customer Service. What an honor!
While we know that Dr. E loves her patients and staff, there are some other things you may not know about your favorite neighborhood dentist. So, in honor of Valentine's Day, we are sharing a few of Dr. E's other favorite things:
Favorite dental products:
Fellow multi-taskers like Dr. E will appreciate the Sonicare WaterPik Water Flosser. This awesome dental tool lets you brush and floss at the same time! It thoroughly cleans the teeth and leaves you feeling fresh and clean. Dr. E also can't get enough of Closys toothpaste and mouthwash. These top-rated products have a cool, yet subtle, taste so they are effective without being too overpowering.
Favorite food:
Dr. E is a huge albacore tuna fan, from tuna sandwiches to pitas and melts and Po- tunas. She enjoys washing each tuna meal down with an ice-cold Diet Coke. Of course, she brushes thoroughly afterwards!
Favorite time of year:
While many Arizonans escape our extreme summer temperatures, Dr. E always looks forward to summer in the desert. She enjoys cooling off in the pool with her family during the hot AZ summer months!
Favorite holiday:
What's not to love about Christmas? The festive music, baking, decorating and opportunity to spend quality time with family and friends are what make Christmas so very special to Dr. E.
Favorite vacation destination:
Dr. E loves vacationing at Marriott resorts while touring nearby sights and attractions.  Next time you come in, she would love for you to ask her where she is planning to visit once we can safely travel again!
Favorite four-legged friend:
Dr. E does not play favorites when it comes to her pets! She equally loves and dotes on her family's three dogs and four cats!
Favorite leisure activities:
It is hard to choose just one! Dr. E enjoys swimming, walking her dogs with the family, snuggling in her PJs with a cold beverage while watching TV, movies, reading and cheering on her sons, Jonathan and Christopher, during their basketball, chess and golf tournaments.
Favorite local sports teams:
Sports are such a great outlet. And luckily we have so many great local teams to root for! You can find Dr. E cheering for our hometown Diamondbacks, Phoenix Suns and the ASU Baseball teams… GO Devils!
Favorite thing about being a dentist:
Dr. E was inspired to enter the dental field after undergoing a life changing reconstructive dental procedure as a young girl. She now enjoys paying it forward by helping others transform their smiles while building their self-confidence – one beautiful smile at a time!
We hope you feel the love from Dr. E and her team every time you visit Dr. E Cosmetic & Family Dentistry. We wish our patients and staff a Happy Valentine's Day filled with all of the things you LOVE.
Contact us to schedule your appointment: 480-494-2435