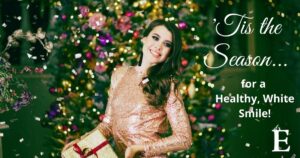 Tis the Season to Keep Your Teeth Healthy and White
5 Tips For a Sparkling Smile This Holiday Season and Beyond
Dr. E hopes that the holiday season is filled with family, friends, good cheer and, of course, delicious treats for all! However, as we inevitably indulge in the sweet fun and fare of the holiday season, it's important to continue to pay attention and keep your teeth healthy and white. The uptick in sugary sweets combined with the hectic pace of the holidays can easily put oral hygiene at risk.
BUT you can stay OFF your dentist's naughty list and keep your smile bright by following these simple yet important holiday dental tips:
1) Healthy Hydration
As you mingle, sip holiday spirits and nibble on yummy party goodies, be sure to stay hydrated with water. Periodic sips of water will help keep your breath fresh while washing away sugar, bacteria and harmful acids that can build up on the teeth. Another bonus of drinking water is that it aids in digestion, especially during this time of year when we may be eating more than usual. Finally, drinking water can help keep your stomach feeling full so that you aren't as tempted to overeat at holiday gatherings and meals. It's one of the healthiest go-to beverages at our disposal so be vigilant about staying hydrated with water during the holidays and all year round!
2) Stick With Your Dental Routine
You may be extra busy with holiday shopping, wrapping and merriment, but please be good to your teeth (for goodness sake)! With so many holiday distractions, it can be easy to become lax about maintaining your brushing and flossing routine. However, plaque and tarter can quickly accumulate, especially when we find ourselves eating more sugar than usual. And if you're enjoying dark ciders and spirits, your smile may suffer from staining without proper oral hygiene maintenance.
3) Be Like Santa; Always Prepared!
Just as Santa and his sidekicks are always at-the-ready during the holiday season, set yourself up to succeed with your oral hygiene routine. If you know you will be on-the-go tending to holiday shopping or attending festivities, keep a portable toothbrush and toothpaste handy in your purse, car or desk drawer. Always have a bottle of water with you to refresh your breath and your smile as you are out and about. And if you are planning to travel over the holidays, be sure to pack your travel toothbrush, toothpaste and plenty of floss to maintain your smile throughout your getaway.
4) Use a "Secret" Dental Weapon
If you are concerned about your ability to keep up with your oral hygiene during the busy holiday season, it's a great time to introduce a new tool to your dental arsenal, such as a waterpik! A waterpik is a dental tool that can be used at home that releases a stream of high-pressure water into the mouth to help dislodge stubborn debris between the teeth and gums. Whether you're finding yourself too busy to floss during the holidays — or you simply loathe flossing all year round — a tool such as a waterpik can significantly help reduce gingivitis and plaque buildup. Add it to your wishlist!
5) Dental Insurance; Use It Or Lose It!
Many dental plans follow a "use it or lose it" approach because they are based on the calendar year. So, despite the hectic nature of the holiday season, we encourage you to be mindful not to let your dental benefits expire before December 31. Make dental health a priority and fit your family's dental appointments in before the end of year! Our team also suggests that you schedule your post-holiday cleanings early in the new year to ensure your oral health and your smile are on track for the year ahead.  
Keep your dentist merry and your teeth white and bright by following the above tips from the Dr. E Cosmetic and Family Dentistry team this holiday season!
Contact us today: 480-494-2435