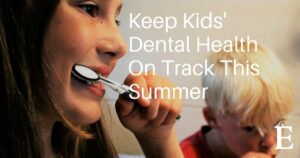 It's Almost Summer – Remember to Keep Your Kids' Dental Health on Track!
We can hardly believe that school is almost out for the summer! BUT, that doesn't mean that your child should also take time off from their dental routine. When schedules become more relaxed during the summer months, it is common for other routines to become lax – including your child's dental hygiene routine. So keep your kids' dental health on track!
Not to worry, parents! The Dr. E Cosmetic & Family Dentistry team has compiled the following tips to help your ensure that your kids keep their smiles healthy and shining bright from the first official day of summer until its time to head back to school.
Here are some important facts about children's dental hygiene for parents to keep top of mind this summer (and always!):
1) Tooth decay is the most common disease among children but it's also the most preventable! Parents, that means that it's up to you to encourage your kids to maintain dental health all year round. Brushing, flossing, and visiting the dentist regularly are three simple yet effective ways to ensure that teeth remain healthy and strong.
2) Kids who learn good dental habits early typically carry these habits into adulthood. Therefore, learning to take proper care of teeth in childhood helps ensure the health of adult teeth once they come in. Parents should supervise kids as they brush and floss to ensure they are being thorough. Of course, parents should always model good dental habits for their kids – this foundation will set the stage for excellent oral health into adulthood.
3) A healthy lifestyle contributes to dental success. While proper brushing and flossing is crucial to maintaining a healthy smile, so is a nutritious diet. Parents should prepare balanced meals and offer children healthy snacks – such as fruit and cheese – instead of sugary sweets and beverages. Of course the occasional summer popsicle is a must, but try to limit sugar overload! Coach your child to brush between meals as well.
4) Dental health doesn't have to be a chore! Make an effort to introduce and maintain a fun dental routine with kids. Let them pick out a character-themed toothbrush.  Play their favorite music during the two-minute "brush time." Consider offering cute rewards for practicing good dental hygiene such as stickers or an extended bedtime. Incorporating some fun into oral hygiene will go a long way into helping kids maintain a healthy routine into their busy teen years and, of course, adulthood.
5) Kids respond bests to routines. It's a proven fact that children feel the most safe when they have a familiar routine. While the spontaneity of summer is a fun reprieve from the more rigid school year schedule, parents should make an effort to stick to routines as much as possible – including the daily dental routine! This includes keeping dental appointments during the summer months. Perhaps it's even easier to work in kids' routine check-ups during summer without having to work around the school day or after-school activities!
Parents, we wish your kiddos a successful end to the school year and a fun and healthy summer. Just be sure to keep the kids' dental health on track and not to "brush" your dental routine aside!
Contact the Dr. E Cosmetic & Family Dentistry team today to schedule your child's dental well check! 480-494-2435